What a treat I have for you today. We're travelling to Essex for a relaxed and elegant wedding in the countryside but that's not all….
Oh no, my eye was drawn like a magpie's to the bride's divine headpiece by none other than Emmy London. If you're a regular visitor to these pages, you'll know how exceptional designer Emmy Scarterfield's shoes and bridal accessories are, so it's wonderful to see one worn with such style.  May I introduce Sarah and Charlie, both insurance brokers? They first met at work and wed on 25 August in a church service and marquee reception at 16th-century Tudor manor house, Ingatestone Hall near Chelmsford, Essex. Rather than choosing a specific theme, the couple chose elements and colours which appealed to their taste, resulting in this romantic and classically beautiful celebration.
Photography Lucy Long Photography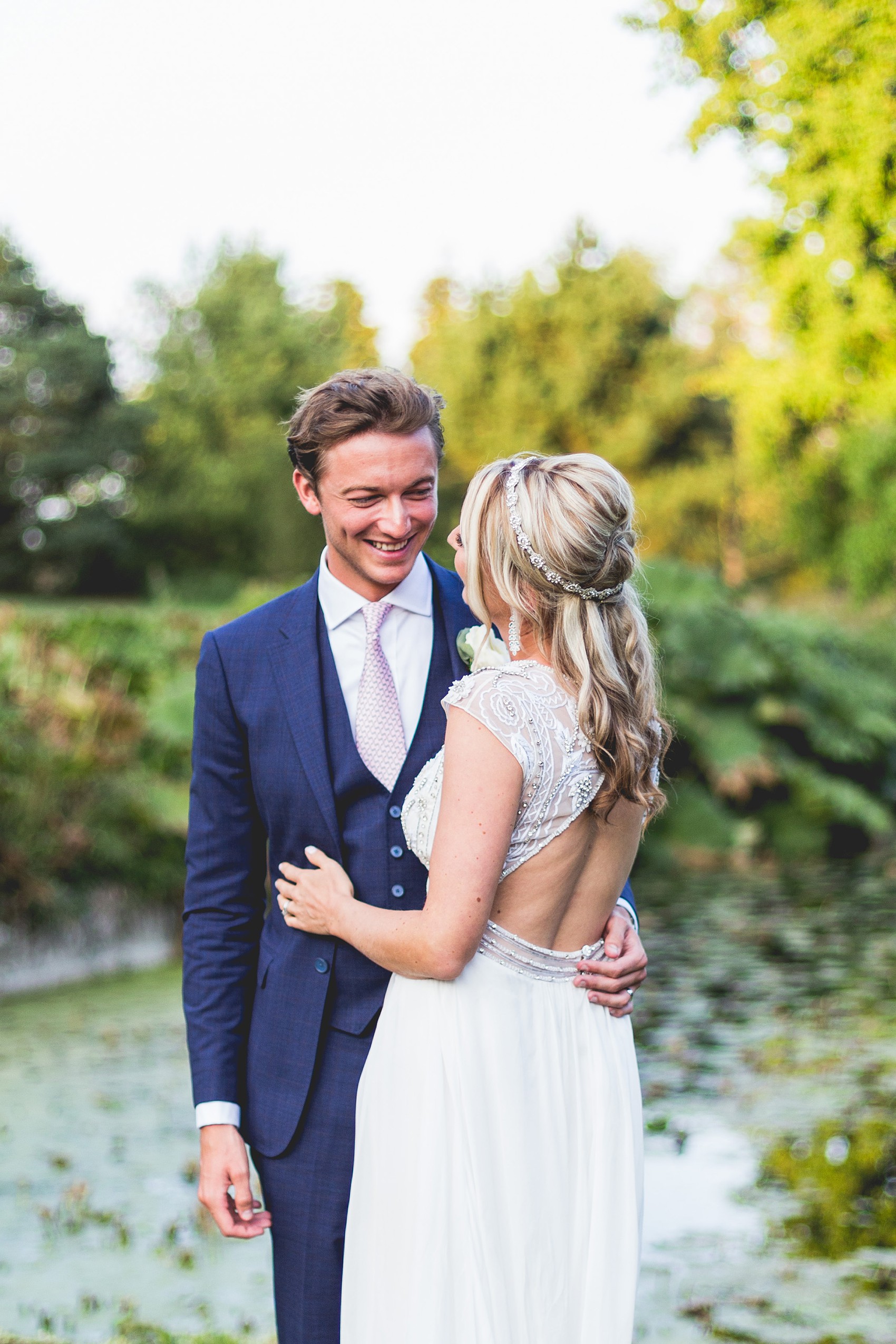 These wonderfully natural images, infused with a light and airy touch, are from the camera of Lucy Long Photography, who Sarah stumbled upon on Love My Dress.
"We were drawn to Lucy's style when I saw a feature on Love My Dress of a wedding she did. I loved how natural and atmospheric the photographs were. We really didn't want a bossy, intrusive photographer who would take over our day and Lucy was so good like that. You don't even notice she's there but she's capturing all your lovely moments for sure."
"We live just down the road from the venue so in terms of ease it was perfect! It's such a beautiful place with gorgeous grounds and a lake. There were also a few swans all sunbathing around the lake when we went to view it and it made it all lovely, natural and romantic. It was perfect for a marquee. Ingatestone Hall have their own events co-ordinator, Chris, who helped with everything. He was really great."
"We went with our own personal tastes and perhaps unconsciously a style came out. If we had to put our wedding into a style it would be romantic but also quite classic."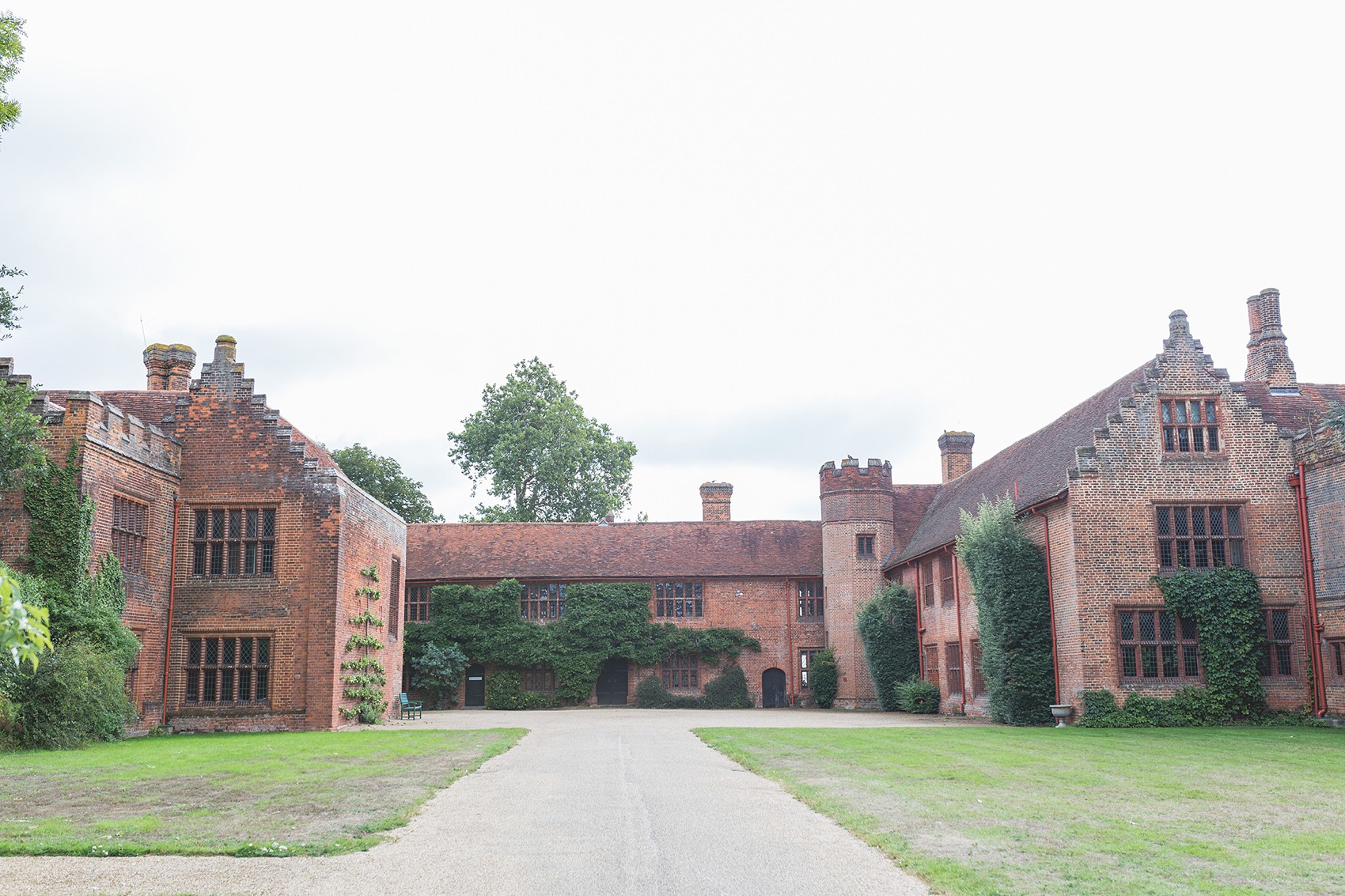 Sarah visited her local bridal boutique, The Bespoke Wardrobe in Ingatestone, where she chose her Temperley London 'Rosalind' gown. I love the combination of its graceful, double-layered skirt in silk chiffon and hand-embellished, open-backed bodice which packs in so much exquisite detail.
"This was the fourth dress I tried on in the boutique and I wasn't sure how it would look at first as it was quite different from all the others. The minute I put it on I knew. It was so lovely and soft and flowing and the detail was gorgeous. I also loved the cut of the dress. I didn't want to wear something that wasn't my style because I knew I wouldn't feel comfortable but I felt like myself in this dress completely. I love it!"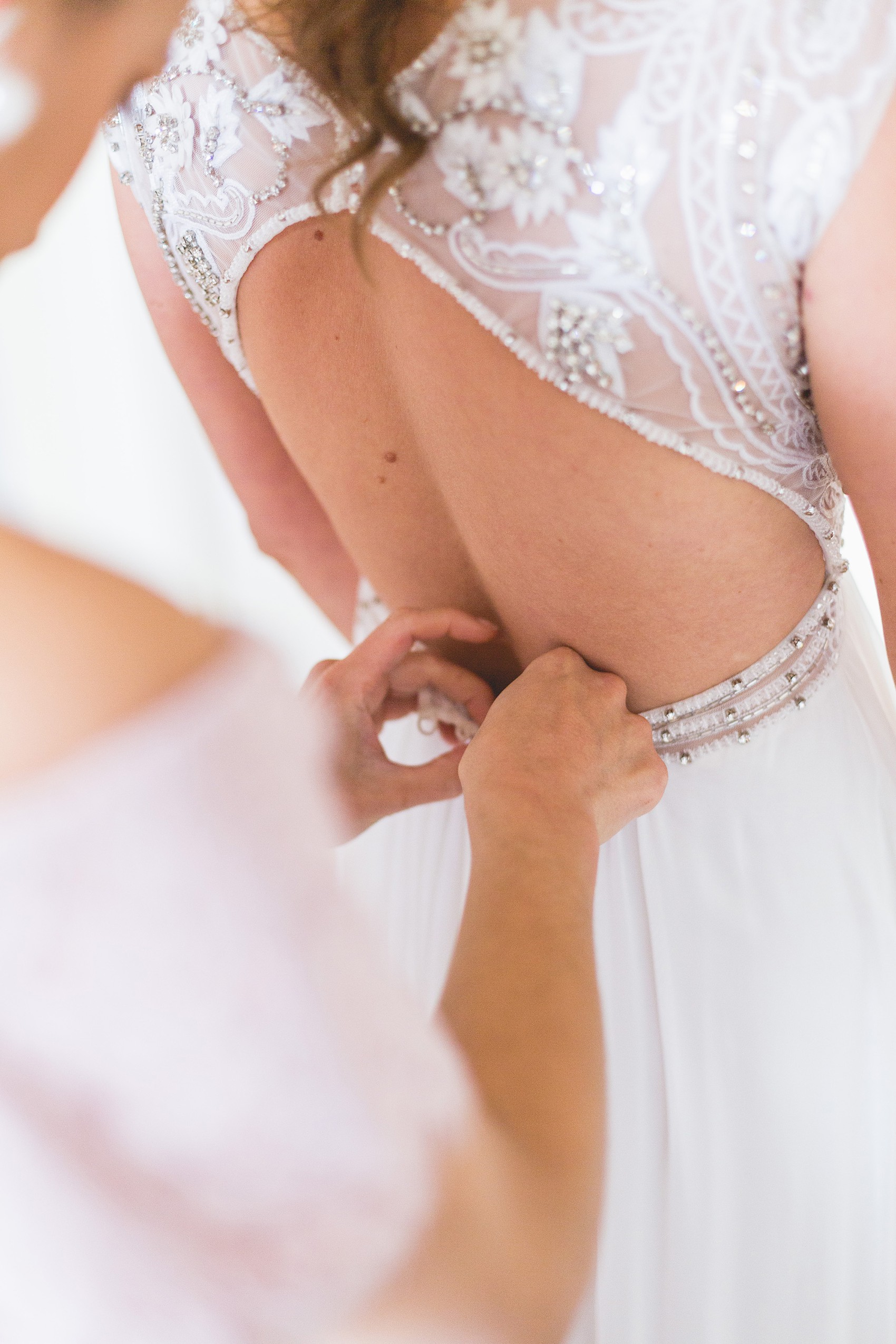 For a gorgeous final touch, she wore an Emmy London halo head-piece which I just adorn.
Sarah did her own glowing make-up and finished with a spritz of Chanel No 5 L'Eau.
"It's a fresher take on the classic No 5 and a bit lighter."
She added Carvela heels in shimmering silver as well as sparkling Swarovski earrings.
"I chose long, dangly ones as these were the only item of jewellery I wore so I wanted them a big bigger."
The girls' romantic, hand-tied bouquets were by florist Stock Florist.
"Flowers were really important to us – the look and the smell of them – so we went all out with loads and loads of lovely pale lilac and white roses mixed in with lots of foliage. We loved them! The marquee was full of gorgeous flowers which really made an impact."
After meeting at work, Charlie proposed to Sarah on holiday in Sardinia and were engaged for 17 months before their summer celebration.
"We met when I went for an interview at the place where Charlie worked. We were introduced to each other as he would be on the team I would be working for and we both smiled at each other. Afterwards Charlie kept asking around to see if I'd got the job and when I was starting!"
The two bridesmaids chose chic gowns in the softest of pinks from DKNY and wore Monsoon shoes. In contrast, the little flowergirl was in a pure white Monsoon gown.
"We clipped real roses into the side of their hair and I bought them both a sparkly bracelet by Swarovski."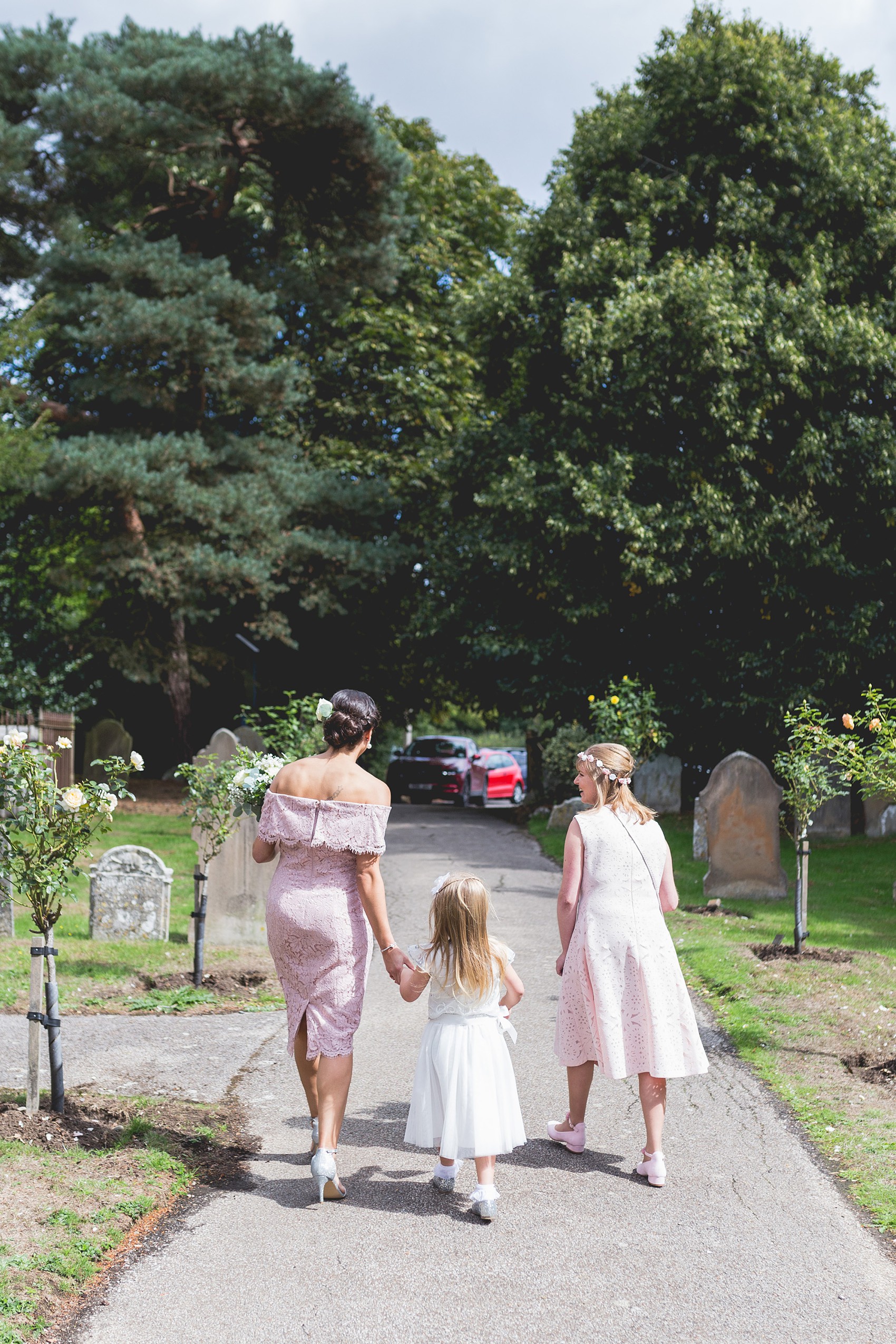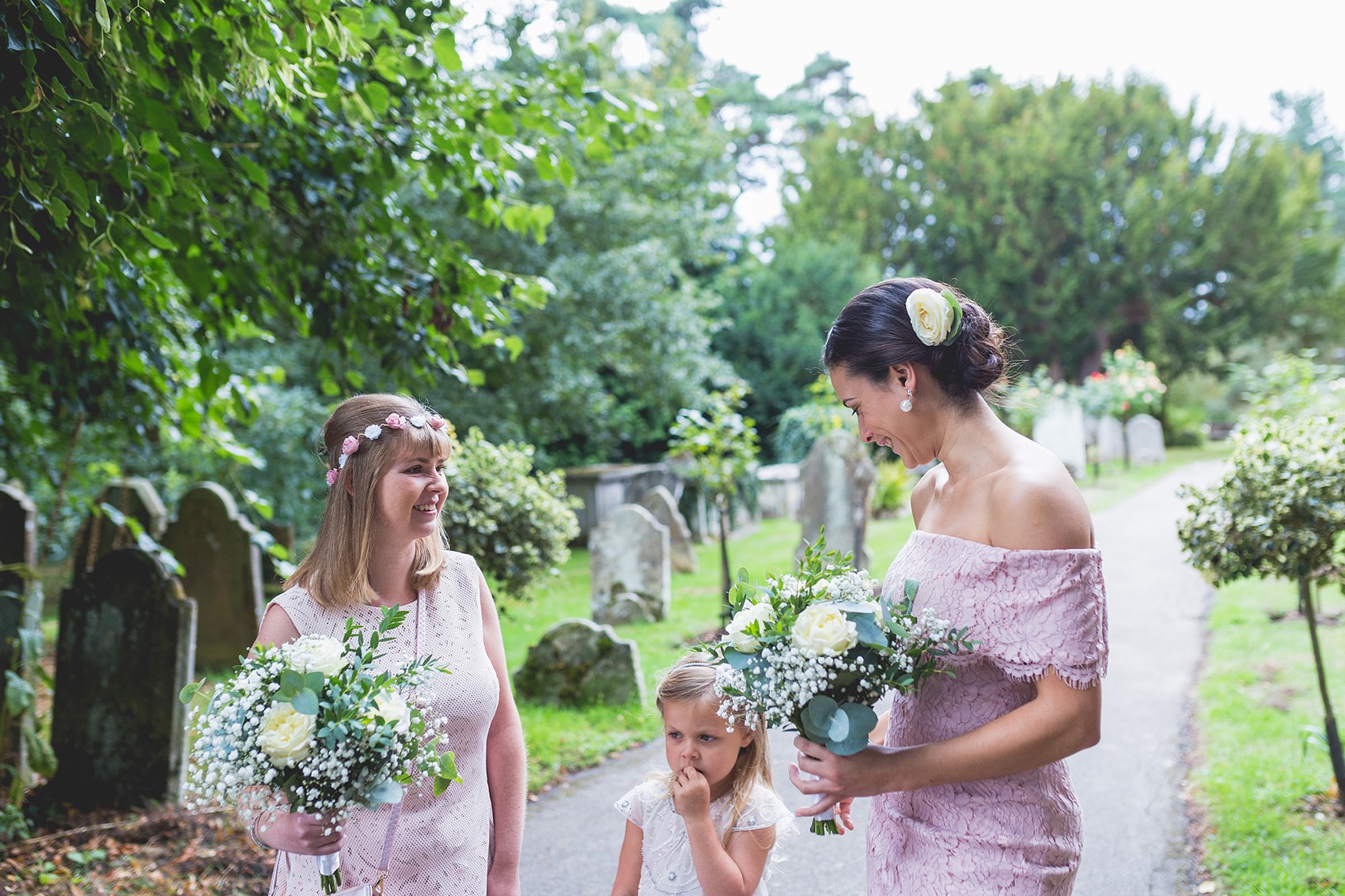 The bridal party walked in to 'Salut d'Amour' by Elgar before exchanging traditional vows with Charlie.
"We looked into a few designers for our stationery but I was struggling to find what I wanted. Everything was too fussy! We wanted something simple and classic and Nicola at To Make A Memory was just brilliant; so great to work with and she understood exactly what we wanted. We were so pleased with our invitations. We could also go and visit Nicola at her home and chat about what we wanted and pick out the styles. Sometimes it's nice just to do it in person."
"My very favourite part was seeing Charlie for the first time! I was so nervous and emotional and then when I saw him I felt relaxed again. I also loved the evening when all our friends and family were having fun."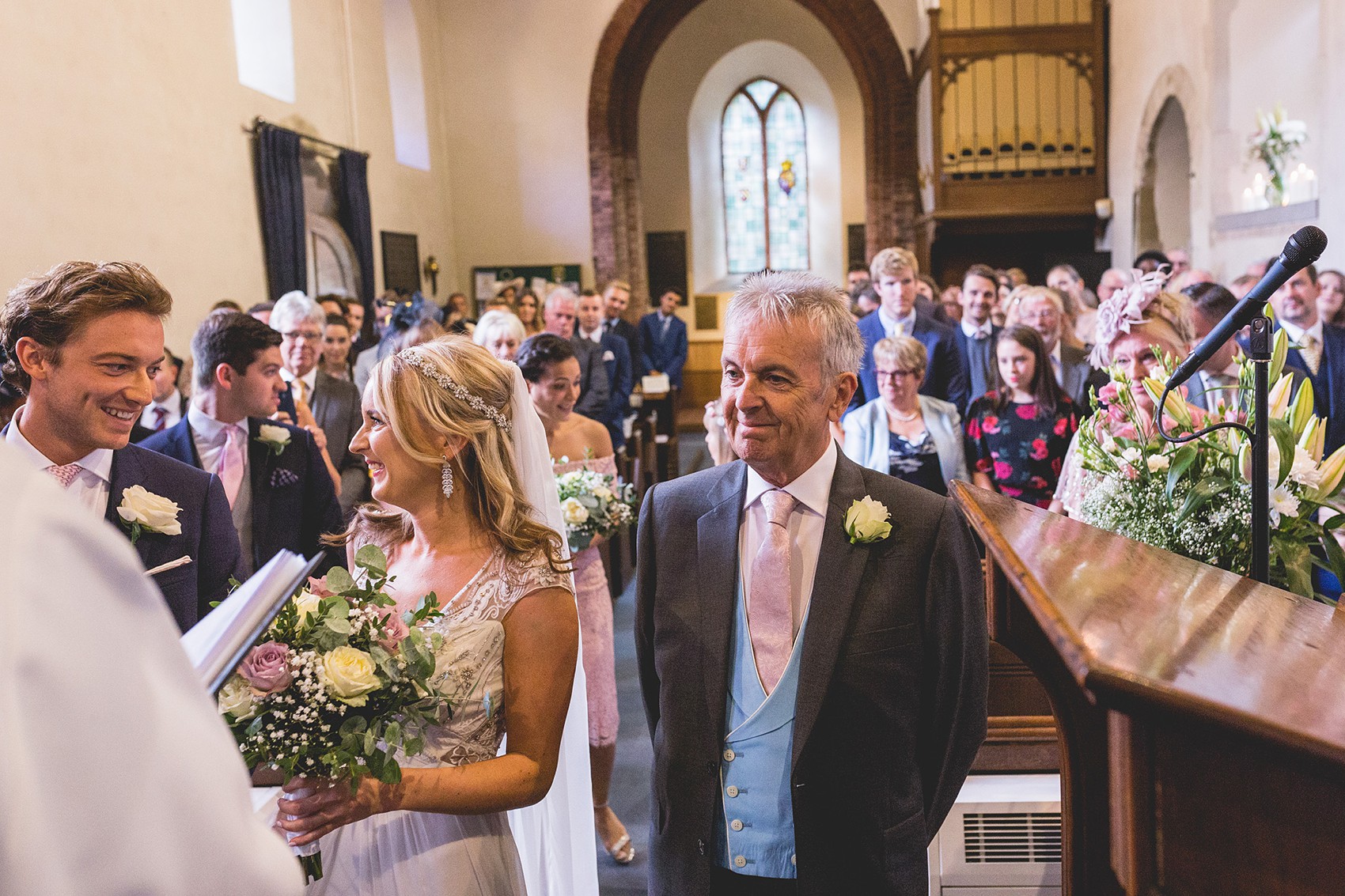 During the service, Charlie's cousin Matthew read 'A Love Poem Between Two Lovers' and they also had 'Song of Solomon Chapter 2'. Their rings were from Pravins.
"We both had platinum bands. Mine had diamonds around and Charlie's was plain."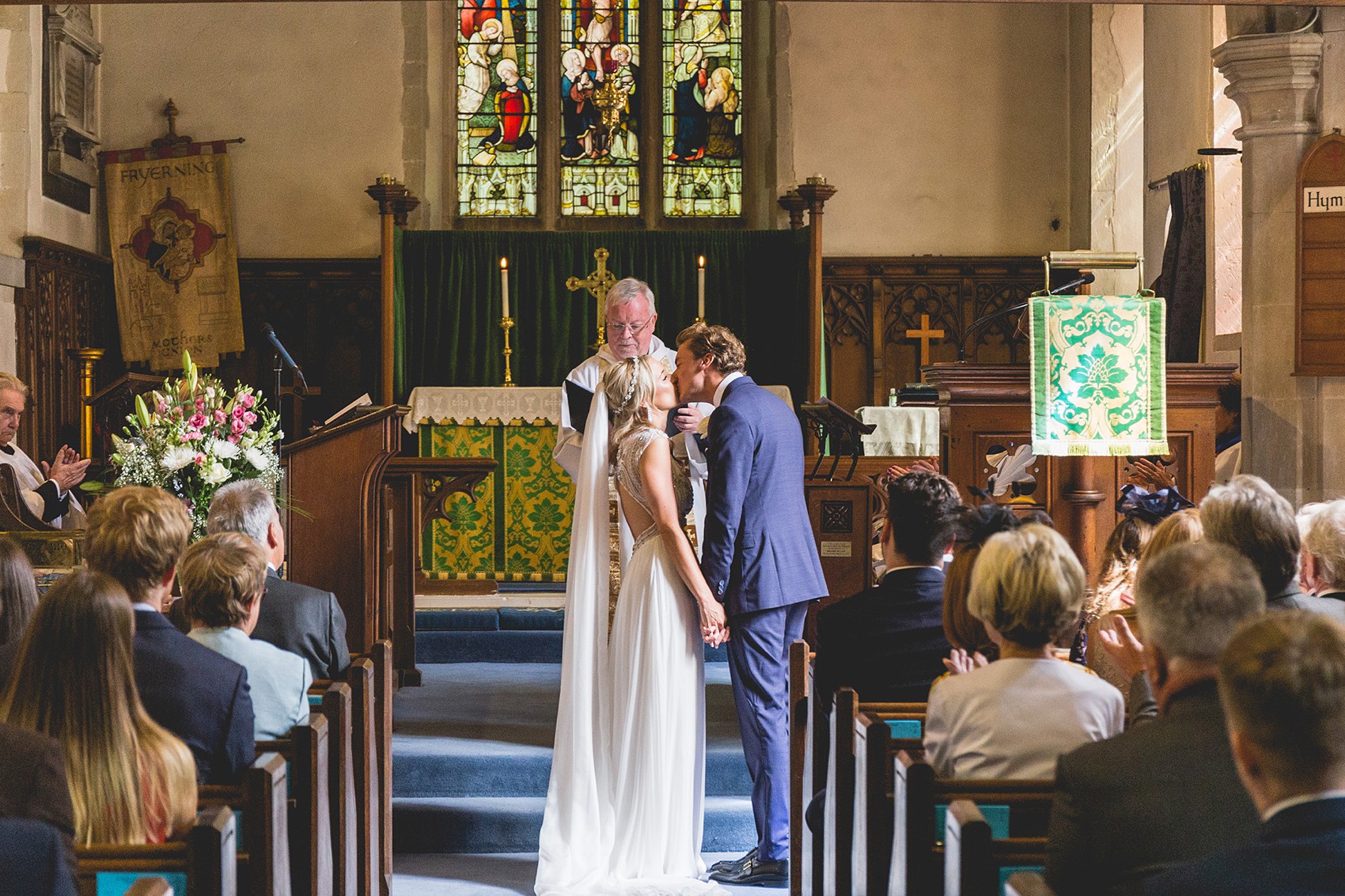 The classic train of the gown was complemented by a pure white veil from Helen Martin Veils.
"I opted for a long chiffon veil which was the same as the bottom layering of the dress and it blended in lovely."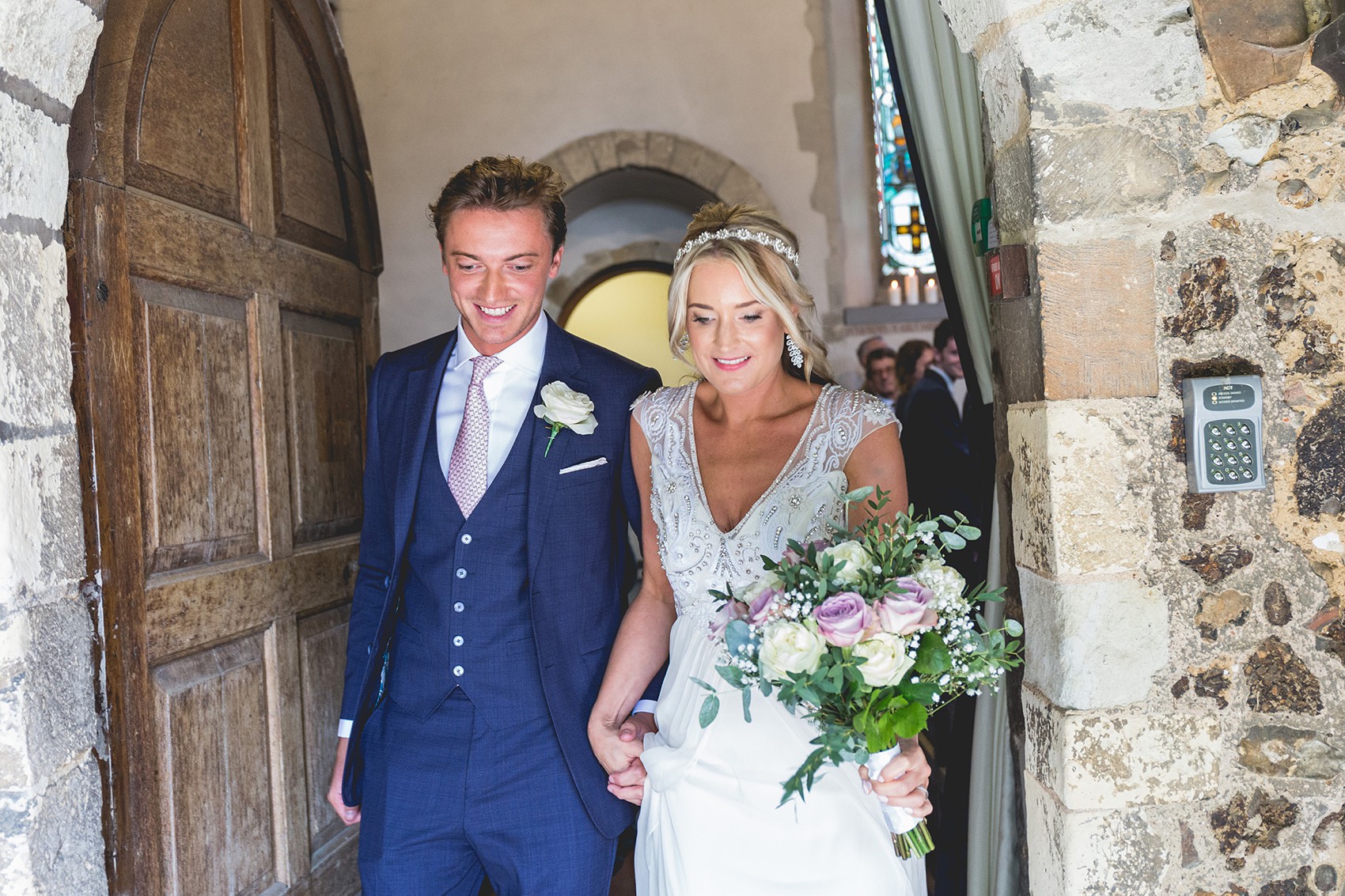 Charlie looks so suave in his deep blue, three-piece suit from Ted Baker, which he accessorised with a tie and cufflinks from Hermès. He was waiting in the cool of the church for Sarah, who arrived with her father Fred in a car from Essex Wedding Cars.
"They were brilliant and professional. We had a classic Rolls Royce which looked great in pictures."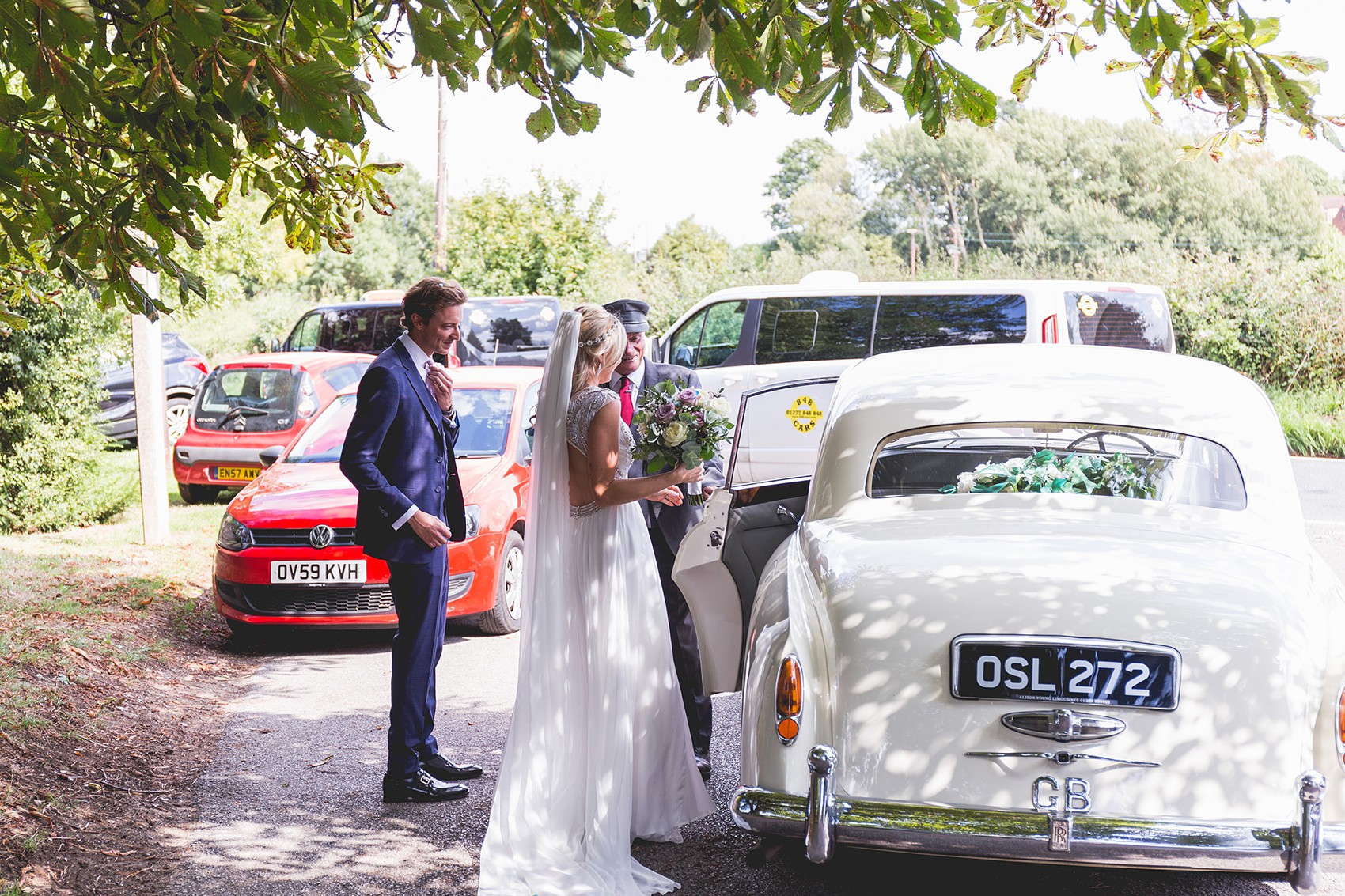 After a short journey to Ingatestone Hall, the guests were entertained over drinks and canapés by three-piece jazz band, Greenwich Village Jazz.
The light and airy marquee was the perfect backdrop for the summer's reception, with its classic tone set by their elegant calligraphied stationery.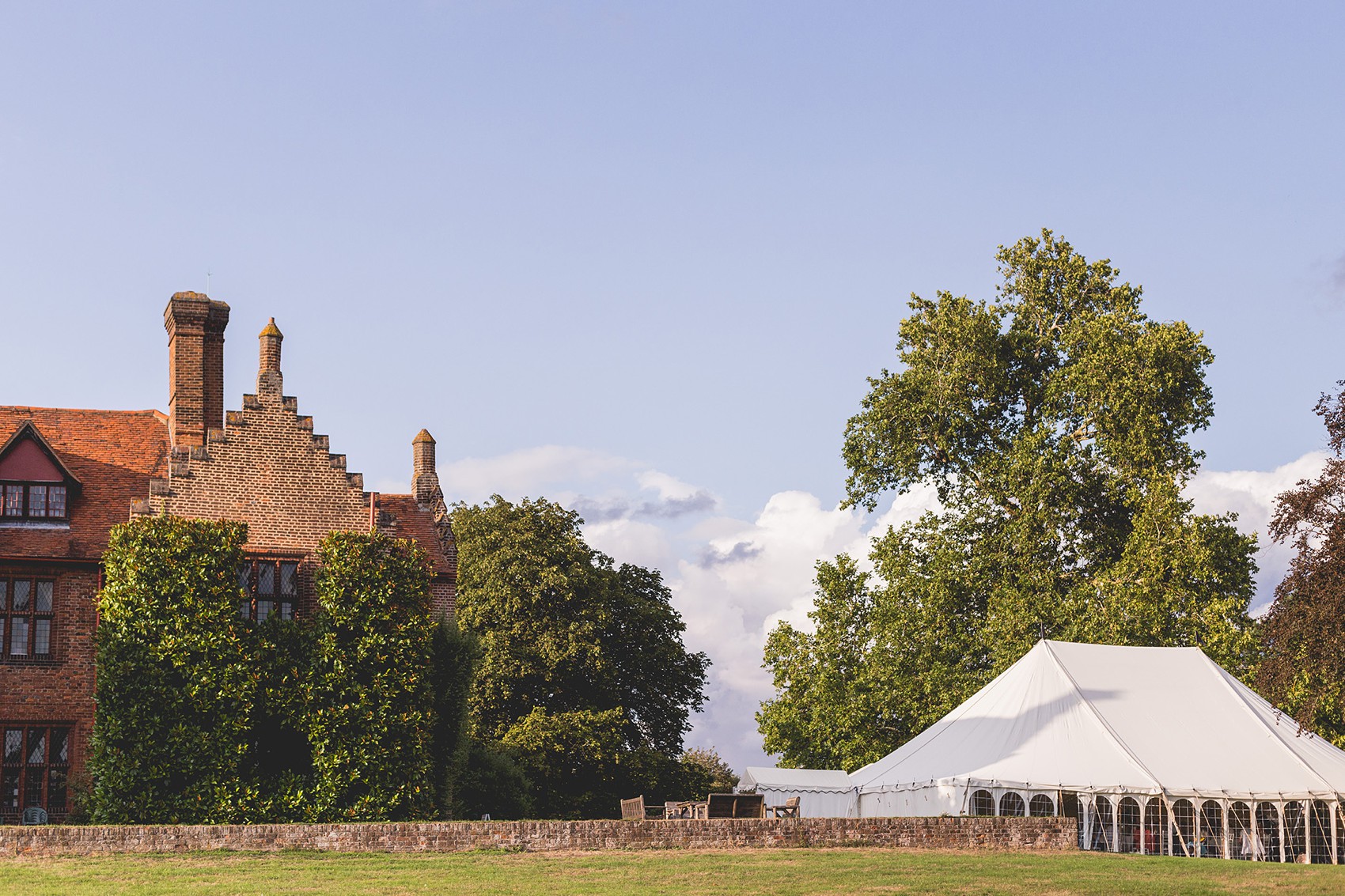 "We kept everything nice and simple as the venue didn't need anything extra and we wanted the flowers to be the centre of attention. We did, however, have loads of candles which looked lovely as the light dimmed."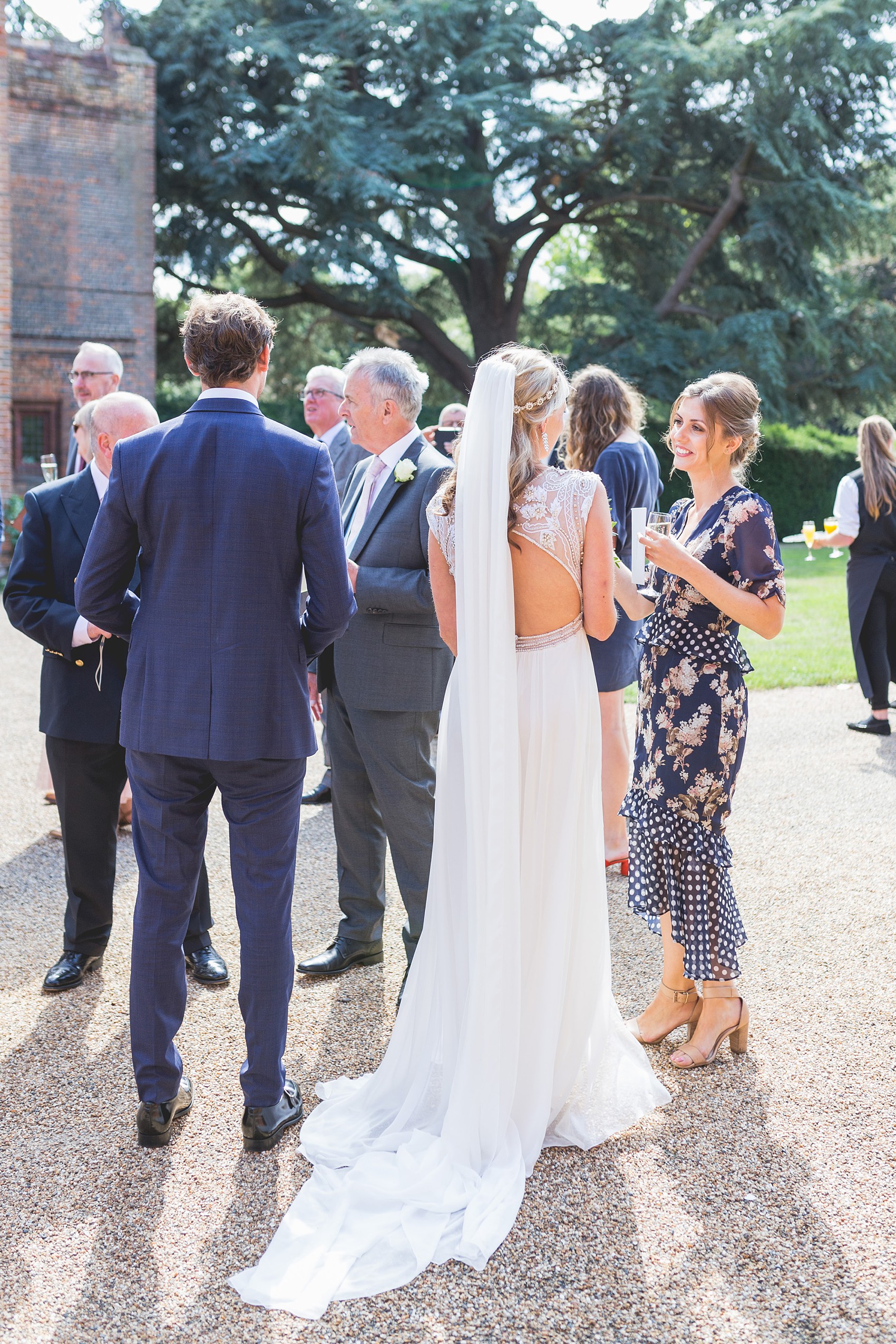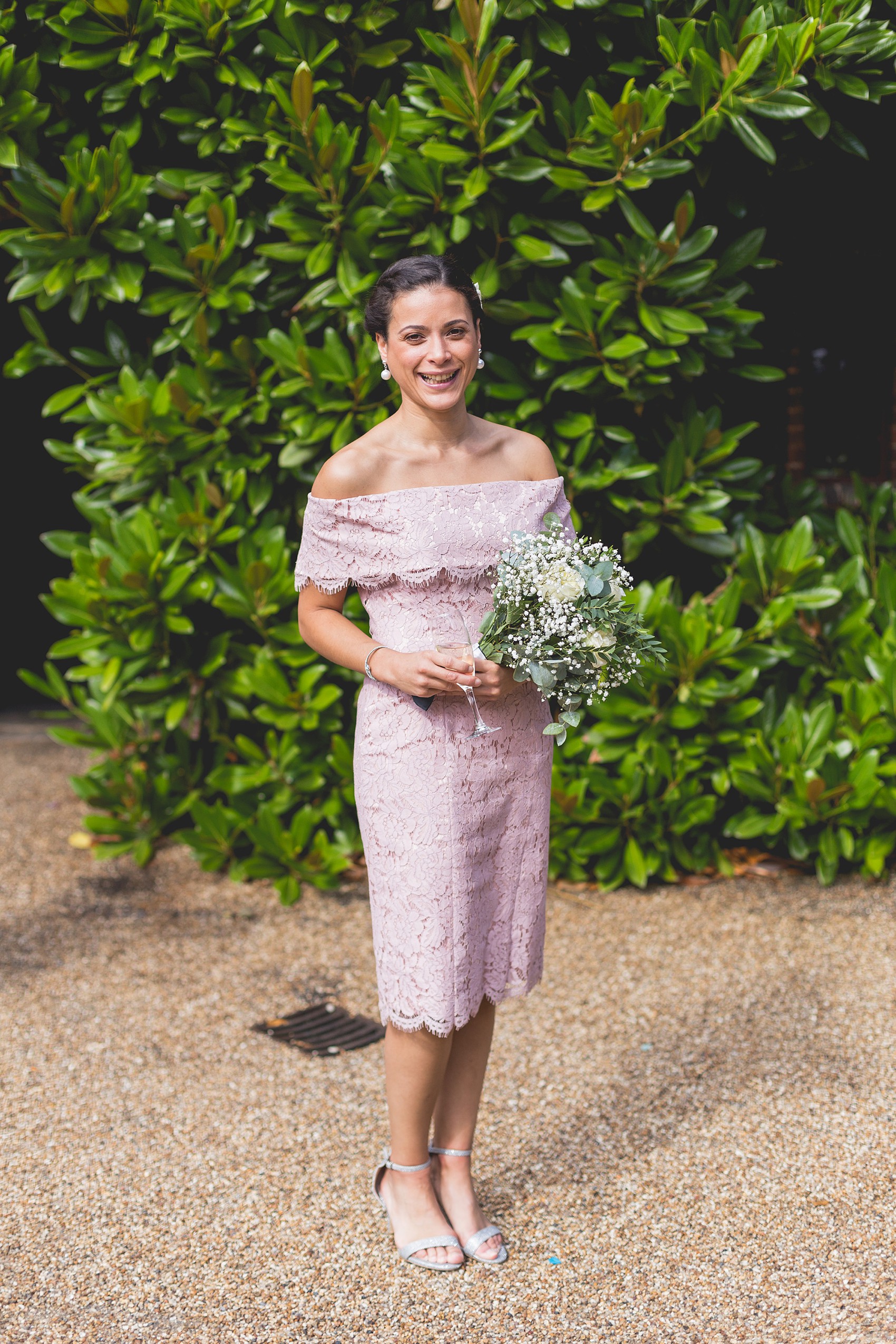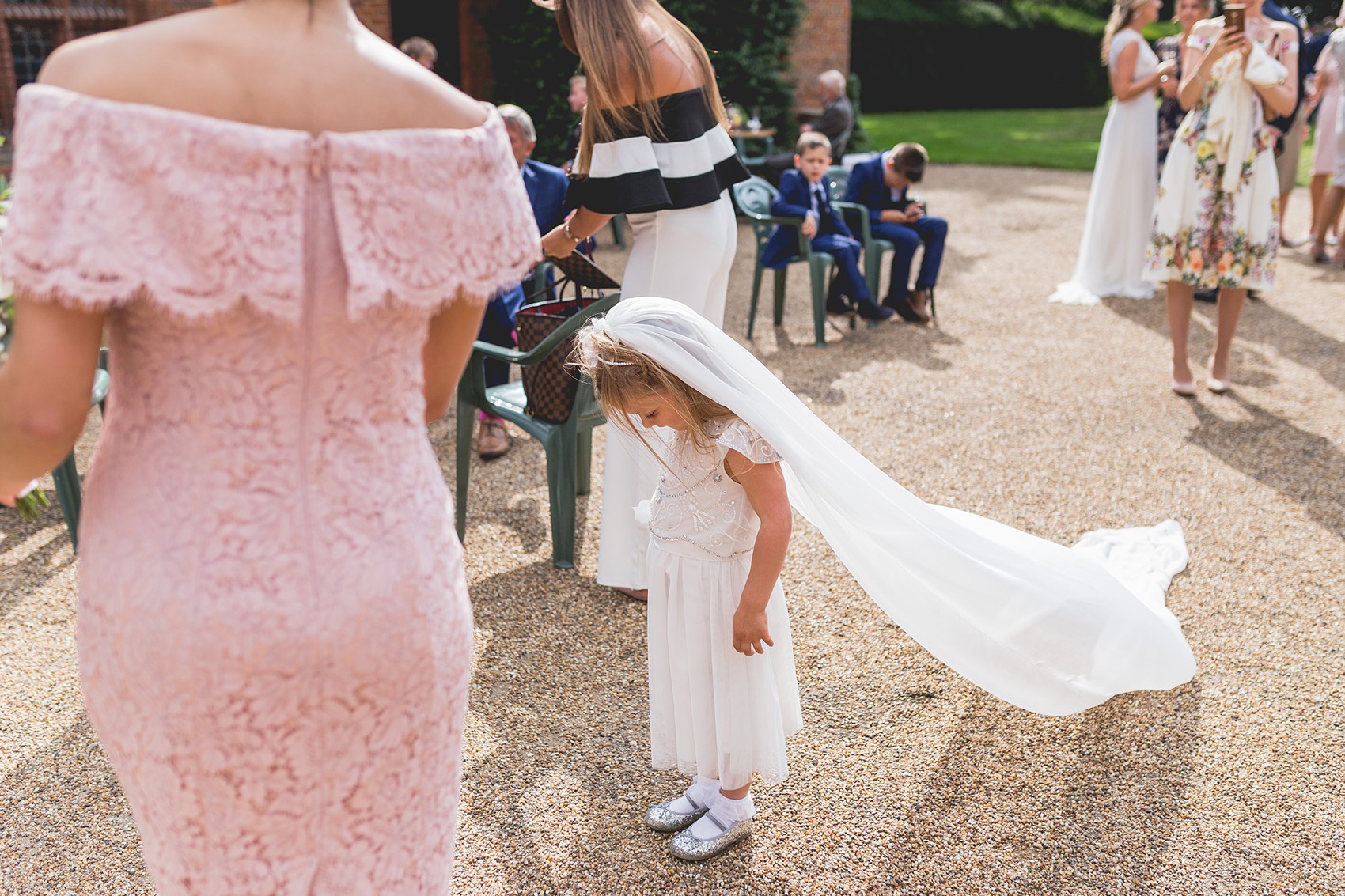 The guests sat down to speeches and a wedding breakfast from Limeberry Catering.
"They were so great and really looked after our day for us, making sure everything came out on time. The food was a big hit! We had a three-course meal as we didn't want people to go hungry. In the evening we had lots of delicious pork rolls."
The cake was a tower of Marks & Spencer cakes decorated with more of the luscious fresh flowers.
"We decided to buy four separate layer cakes from Marks and Spencer. They do such nice cakes and it meant we were able to decorate it ourselves. We had one layer of sponge and the rest fruit and covered it in roses from our florist."
After the cake was cut, the couple took to the dance-floor for a first dance to 'Can't Take My Eyes Off You' by Andy Williams.
"We love the song. It's so sweet and it gets everyone in the mood for dancing."
"We had a six-piece soul band called Soulshine Band who were absolutely brilliant. Music was also important for us as it really brings your day together and it was so nice to see everyone up and dancing the night away."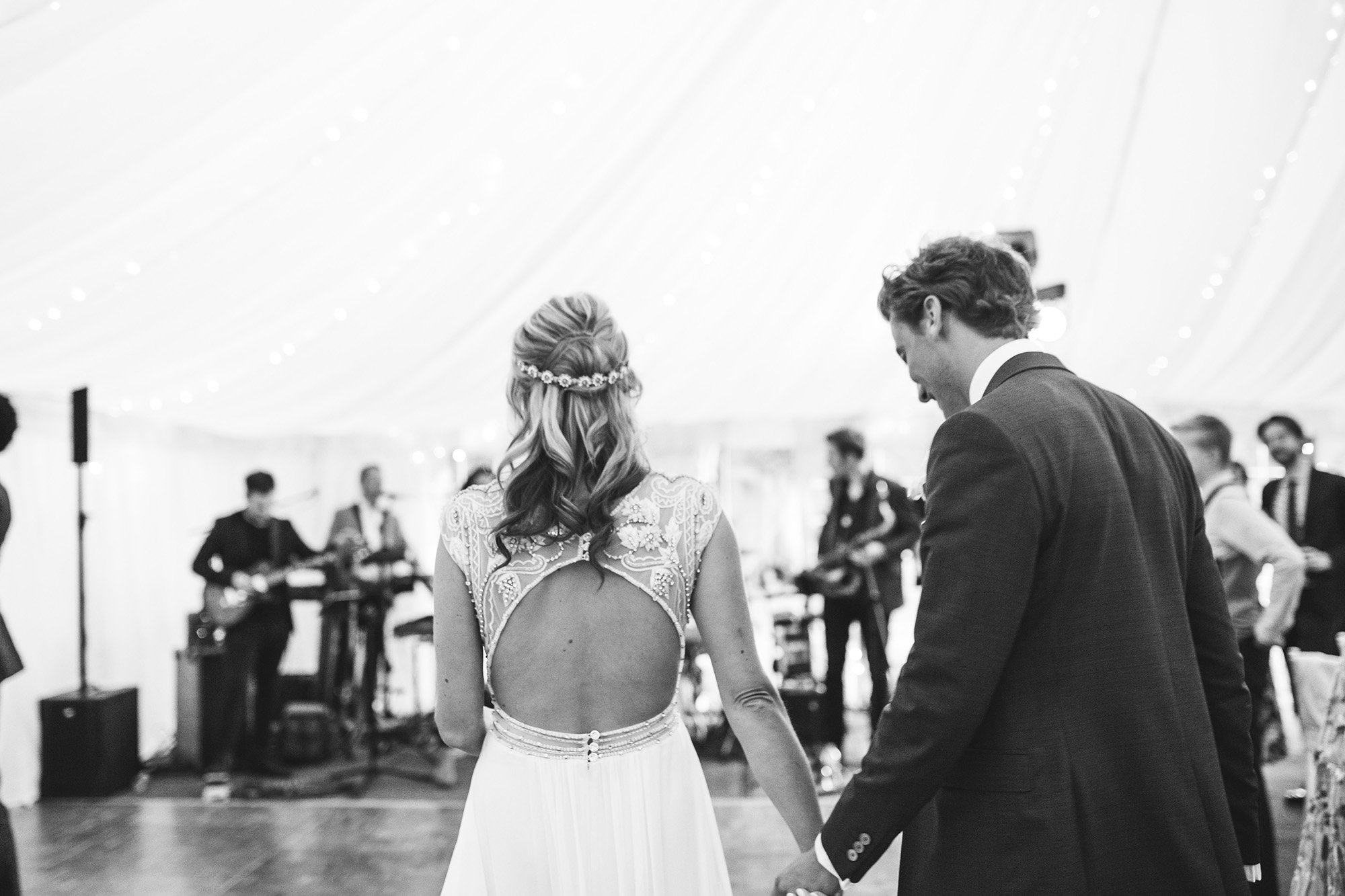 Words Of Wedded Wisdom
"Take your time and choose carefully. Word of mouth is good when choosing suppliers but you have to go with your instinct a little as well. If you feel like you trust them and are confident in them, then the stress will disappear.
"I started with a long list of everything we had to do and once it was booked I just ticked if off and forgot about it. No changing our minds! I knew on the day everything was in hand so we could just enjoy ourselves."
"Try not to overthink – just go with your own personal style and taste. And try not to listen to anyone else's opinion–it's your day."
It's been so lovely to share your work again Lucy Long, so many thanks for your beautiful photographs. Charlie and Sarah, thank you to you both as well, and I hope you had a wonderful first anniversary. If you'd like to see more brides in Templerley London gowns than take a few moments to enjoy this selection.
Ele xx